Below is just a sample of some of our most recent projects. We will be constantly creating, and shooting more of our work, so keep coming back! Perhaps your car or bike will be next!
Birdman Bobber- Triumph Bonneville
The "Birdman Bobber" was a project we collaborated with British Customs with direct input from living skateboard legend Tony Hawk. This bike was auctioned off to raise donations for the Tony Hawk foundation. Full paint details to come!
1965 Cadillac
This 1965 Cadillac came to use in fairly good condition on the exterior but needed some love on the interior, in the trunk and under the hood. We thoroughly enjoyed taking this cool car to the next level! Around the shop, we fondly nicknamed this Caddy Ron Burgundy, because face it, with itsZZ502 Ramjet engine, this car IS the balls! To make this cool car even cooler, we installed a new thermostat, dual monster electric fans with controller and a Magnum Mark IV Vintage Air System. Even with the little to no under dash and glove box space in the '65 DeVille we managed to make this massive air conditioning system work. A basic safety inspection and fluid change was completed. We then got all of the little things to work that some people take for granted in their classics like all the gauges including the speedometer, lights, switches, horn and emergency brake. A basic safety inspection and fluid change was completed. We then The fuel system was repaired, removing the fuel cell that was in the trunk and securing a new tank under the car equipped with new lines, pickup, high flow fuel pump and fuel injection. The enthusiastically worked with the owner to design the ultra-classy double stitched diamond gold interior with chrome tinsel trim, custom gold carpet and brushed white pearl roof with white pearl accents. We hand-casted the new steering wheel, horn emblem and turn signal knobs in resin with 24 karat gold. We then installed a new blue-tooth stereo system to make the interior sound as good as it looks.
The 1956 Mercury Metalist
A very cool looking car to begin with, this 1956 Mercury Metalist came to us in nice condition but had a few things that the client wanted upgraded as well as repaired. In just a few short months we were able to finish his vehicle for him and take it to the next level! The electrical system received a new wiring harness, a new alternator with a heavy gauge wire, the battery was set up in the trunk in a secure and vented battery box and remote entry system with door poppers was integrated. A stereo, speakers and sub-woofer were installed to provide some rockin' tunes for the driver as he changes gears on his custom shift knob which was created using a 1955 microphone that was used by none other than Elvis Presley! As if this car wasn't already cool enough a Vintage Air system was installed and the dashboard modified to fit the new vents along with a custom clock and new gauges. The dashboard was then body worked and painted to match the metal flake roof and was finished off with pinstriping by our good buddy Doug DoRr. The existing steering column was disassembled and modified, welding up shift holes and setting up an indicator for shift positions and a power steering system was added. The horn button was repaired and it was all topped of with a new Con2R steering wheel which we painted to match everything else along with a custom Mercury Man horn center cap. To help this car stop on a dime, the brake system was rebuilt and adjusted receiving all new lines, hoses and components as well as a front disk conversion and a boosted master cylinder. New weather stripping was installed for the windows, doors and trunks and all new glass was installed. The windows received new felting and adjustments. The vehicle had an air bag system installed in the car to begin with but the owner wasn't very happy with it. To make it a better ride, more like what you would feel in a modern Mercedes or Land Rover, we installed a self leveling ACCUAIR suspension. A new interior was created and installed in the car including seats, a custom center consul with cup holders, new carpet, upholstered trunk, seat belts, new door seal plates and LED lighting in the doors to light up the ground when entering and exiting the vehicle. A new set of Radir Tri Rib wheels were chosen for this car then chromed and wrapped with new Coker white wall tires. The cooling system was in need of some overhaul so we installed a new radiator, thermostat, condenser thermostatic switch, controller and electric fan. A custom bracket was needed to fit the new radiator, fan and condenser and all was topped off with a custom made radiator cap. The engine compartment was brought to the next level by when we fabricated & installed aluminum panels spraying them along with the underside of the hood, to match the copper base and metal flaked roof. We cleaned up and did some final touches on miscellaneous items along with some chroming and fitment. The finishing touches on the car were the unique Mercury man hood ornament and the rear window plaque which was graphically designed by Matthew Means then cut out of stainless steel and chromed.
"Rally Car"
This incredible project was worked on in collaboration with Rally Innovations. Tons of details and specifications coming soon!
1960 DeSoto "Island Girl"
This 1960 DeSoto is quite the head turner. Have a look at the exquisite detail to the paint. The paint for this car is House of Kolor Shimrin 2 / Sealer base: 2 coats KD3000 series custom mix Seafoam sealer / Color base: 3 coats Iced Mint (custom mix) Pearl base: 18 Blended coats of custom Bali Bali Bay pearls, ranging from light to dark in the same color family. Each coat was over a smaller area with each successive darker color. Clear Coat: 3 Coats USC-01 sanded flat and then 3 more flow coats, color sanded and buffed to a fine finish. Official name for the color: Bali Bali Bay pearl Painter, Matthew Means, has always been a fan of Watson and Gene Winfield; their influences can be seen in this flawless finish. Unlike his predecessors however, Matt's approach was to use the darker coats of pearl on the tops of fenders and body lines and lighten the shades of the paint as it moves down the body panels.
1968 Dodge A100 Sportsman
The owner of this van originally brought this vehicle in to make it road-worthy. He purchased it from a fisherman he most likely used this van for function rather than fashion. We cleaned the van out, re-chromed the bumpers, installed new side mirrors, red-line tires, and got her road-worthy. The original brake system was rebuilt and the engine serviced and tuned initially. All fluid systems were serviced and all of the bulbs were replaced. The paint was color matched and touched up here and here. The roof, the area most weathered, was resprayed completely. After a summer of driving it and realizing how much he truly enjoyed his "Mystery Machine" the owner brought it back to receive a few more finishing touches. This time we installed a rebuilt short block engine but before setting it down on the new motor mounts, we custom painted it with HOK gold paint and added Lime Gold metal flake. The surrounding dog house was repainted and received new insulation. The transmission was rebuilt. A new water pump, Edelbrock 1403 carburetor, Offenhauser intake manifold, new header set, new vacuum advance electronic distributor with high performance advance curve, new distributor cap, and rotor installed. Plus, a new wiring harness, electronic control unit and new ballast resister. The headers were modified slightly and powder coated white by our friends at Embee Performance. The interior was pulled out and we removed the old paint from the floor board. The floors were then sprayed with a urethane bed liner for which we matched with the exterior color of the vehicle, not only for fashion but to serve as insulation, sound dampening and a durable floor base that can withstand California beach sand. The upholstery was also restored: seats were reupholstered, and the glove box and sun visors were repaired. Please check back soon on our blog page for a feature article about this Dodge A100 Van and its adventures on the road!
KTM RC8 - "Scrappier" built by Woolie from Deus Ex Machina & Painted by Anaheim Rod & Custom
The poison apple paint is a masterful work from Anaheim Rod and Custom, starting with a white pearl base coat and adding a layer of bright candy red, and finishing with a black candy top coat. The resulting presentation is stupefying, appearing nearly pitch-black in low light with metallic deep reds and purples shining thru the highlights in full sunlight, showcasing the curves and angles of Woolie's handiwork.
1938 Buick Special
The 1938 Buick Special was in need of some TLC when it arrived at A.R.C. We gave this car a complete engine tune up and got it running after sitting for many many years. The cooling system was repaired and carburetor rebuilt. We upgraded charging system, replacing the generator with a 6 Volt alternator, old bulbs were replaced and a stereo installed so the owner can enjoy some tunes while cruising around Anaheim. The trunk was re-carpeted when we installed the speaker boxes. We completely rebuilt the brake system and serviced the vehicle's steering and suspension, making for a much nicer ride! In addition to getting this car driving & stopping properly, we made her more beautiful by color sanding, buffing out and slightly touching up the car's very old, quite possibly original, lacquer paint. New wheels and tires were installed and hubcaps polished. Replacing weather stripping, installing new glass, wipers and other minor adjustments were also on the repair list.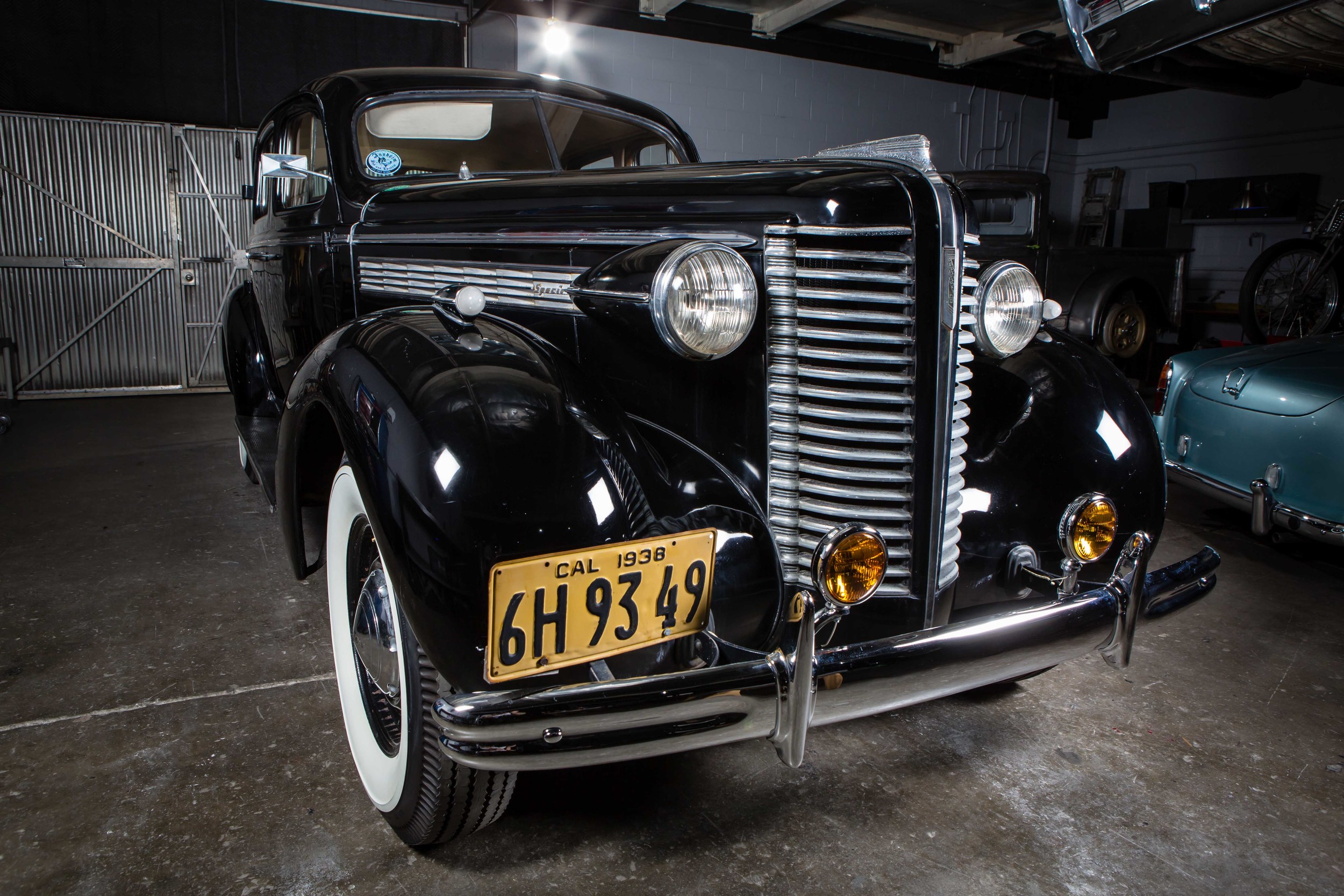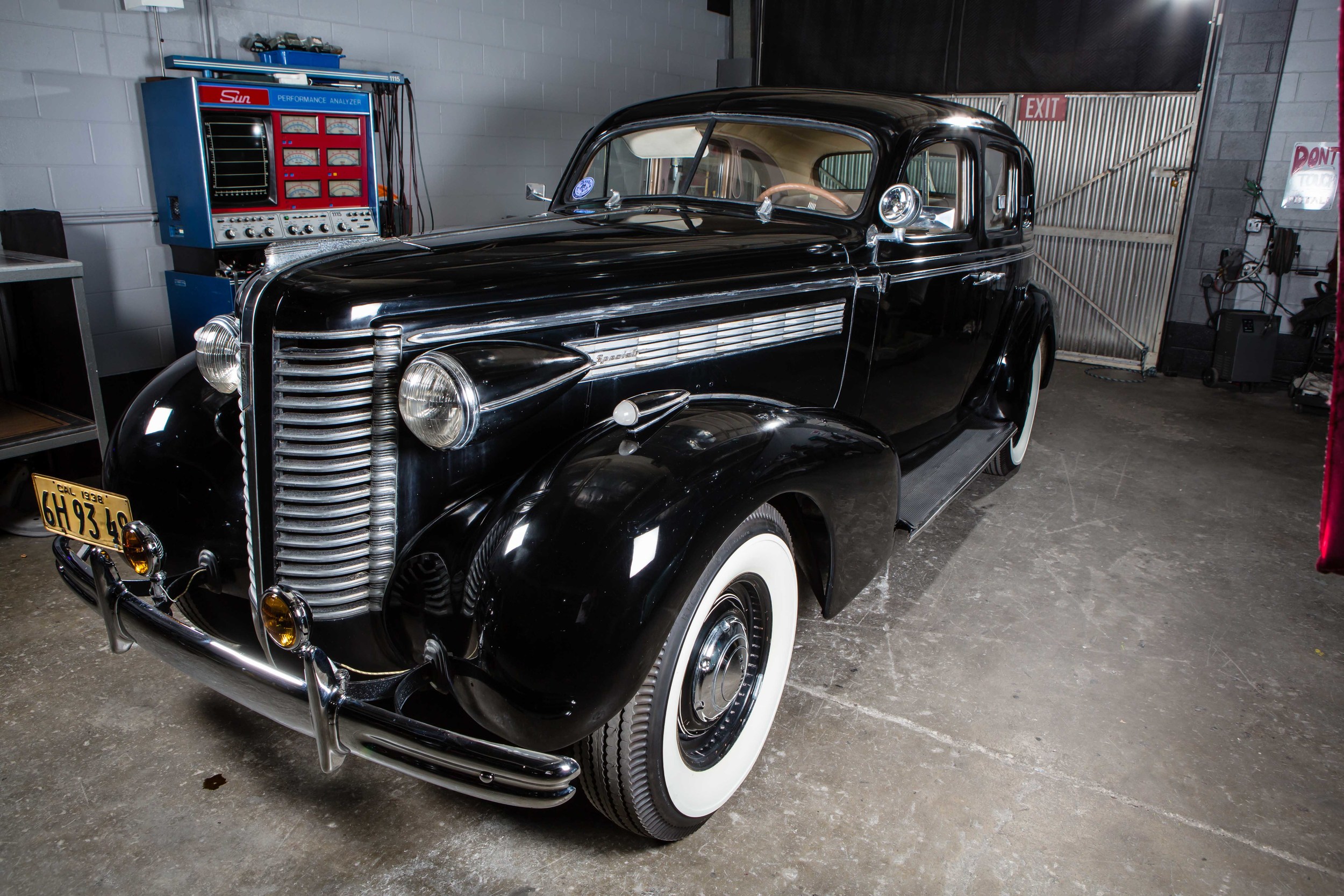 1950 Cadillac
Ground up full restoration project completed by Anaheim Rod and Custom as a promotional vehicle for Agave Underground tequila company. This vehicle was completely disassembled and reassembled in house. The frame and underside of the car was cleaned and both were painted. The drum brakes were rebuilt and restored. New brake lines and brake system components were added. The fuel system received a new fuel pump, carberator, the tank was cleaned and resealed and new fuel lines and fuel filter installed. We swapped the engine in the car from a Camaro engine that was in it to a Small Block Chevy 350 that we rebuilt. A rebuilt overdrive transmission was put in the car. We installed a custom air bag system with 9 switches, and custom exhaust. The car was basically a rusty shell when we received it. All the rust was removed and repaired, and then it received body work and a fresh coat of House Of Kolor Jet Black Shimrin 2, with the USC-01 Clear, and the KD 3000 series Black sealer. All of the trim was redone and chromed and installed back on this big beautiful vehicle. All of the interior pieces were repaired, chromed or painted. The gauge cluster was repaired and repainted. We equipped the car with a new wiring and a JL Audio system. The vehicle also received a custom interior design with upholstery that somewhat resembles the inside of a coffin equipped with a maroon velvet headliner. The steering wheel was restored. The car received custom designed, carved, and cast emblems on the hood ornament and interior that match the Agave Underground Tequila logo. Custom hubcaps were also created to go onto the new Coker wide white wall tires. We hope that our client and the Agave Underground tequila customers enjoy this car as much as we enjoyed working on it.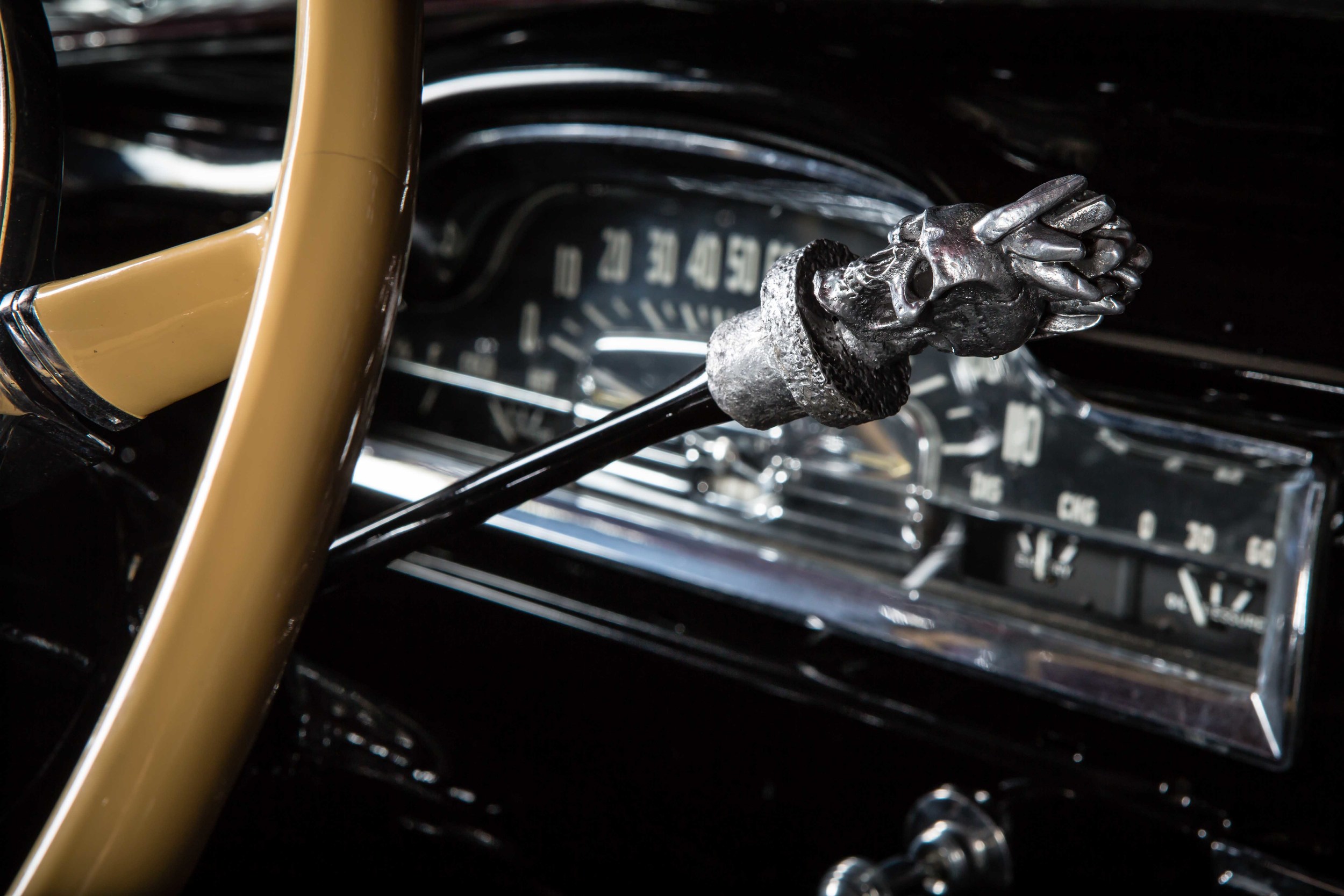 1937 B12 Cord
We had the pleasure of doing mechanical repairs and adjustments along with some final finishing to get this vehicle prepared to be sold. The car would not roll when it arrived to our shop. We had to repair the wheel cylinders, bleed the brakes, and adjust the brake system. The transmission was not shifting, we had to repair a short in the shift selector, clean up the wiring and re-hook up the trans. The ignition wiring had to be repaired. Minor leaks were chased down and repaired. The gravel shields were installed on the rear fenders. The hood alignment was adjusted and the radiator paint touched up. Lastly, the engine was timed and tuned and all components tested then, she was ready to drive out of our shop and into the heart of a Cord collector.